An island so tiny and affectionately called the Little Red Dot, yet densely populated by famous landmarks and soaring skyscrapers, Singapore still has some parts that remain undiscovered and rarely visited.
And if you're ready to look beyond the most-visited landmarks and the rising buildings, you can find the most unexpected pockets of nature, rich heritage, and a big knack for creative twists on activities.
Here are some of the best lesser-known spots and attractions in Singapore you need to "touchdown" on your next visit.
Live Turtle and Tortoise Museum
It is quite rare to find an entire museum that's dedicated only to tortoises and turtles. But this place in Singapore brings together more than 200 of them from over 60 different species.
From the Chinese Garden and recently relocated to Yishun, the Live Turtle and Tortoise Museum is a peaceful sanctuary for this calm and slow-moving creatures. From Thailand's Golden Temple Turtle to the red-eyed Elongata to the majestic Radiated Tortoise, you will find the most exotic and rarest varieties living in this wonderful museum.
Be wowed by the terrifying alligator snapping turtles, wondrous and weird mata-mata, and a 60-year-old Asian turtle. And there is even the six-legged, double-headed amphibian that the owner claimed to have found in their courtyard.
Kids can stay to the petting corner where they will have a personal and close-up interaction with some of the gentler species. Tiny terrapins and soft-shelled tortoises roam the park freely— you can feed them or give them a soft pat on the shell.
If you are lucky, you can even witness eggs hatching. For souvenirs, you have a broad variety of options from toys, ornaments, tableware,and even furniture.
RRFM (Singapore Really, Really Free Market)
A market where everything you see is totally free?
Sounds good to be true, right?
But, it is!
The RRFM or Singapore's Really, Really Free Market offers all services and goods for free with nothing for sale. Anyone with skills or some stuff to share is totally welcome to set up a shop.
And when a guest finds something they want or need, they are welcome to have it.
RRFM is a movement that counters capitalism in a non-reactionary way while promoting mutual sharing. However, since this is a temporary market, you will need to check out their updates on their Facebook page.
This market is organized by Post-Museum, a social and cultural enterprise. Its concept is based on giving, building a community founded upon resources sharing, caring and improving the collective lives of every person.
Every year, the market sees hundreds of participants from Singapore. Locals and even tourists bring all sorts of things that they don't need or want anymore with the hopes that these items will find another owner or just about anything they like to share.
Some of the most popular items include new clothes, fiction books, home-baked cookies, as well as worms for composting. Beyond that, some individuals also offer their services. Anything from haircuts to massage, yoga as well as tarot card readings.
Butterfly Park and Insect Kingdom
Featuring specimens of over 3,000 species or rare insects and butterflies, this living organism museum is a wonderful, hidden gem of Singapore. Set within a rainforest, the Butterfly Park and Insect Kingdom features the stunning beauties of nature and brings you closer to these beautiful creatures.
The highlight of the museum is the netted conservatory where over a thousand of beautifully-colored butterflies freely flutter around you in the tropical rainforest setting.
At the pupa house, you will learn about the butterflies' life cycle, having a close look at the entire metamorphosis from pupa to butterfly with live specimens. Head to the bird and animal aviary, filled with iguanas, colorful macaws, and more fascinating creatures.
If you're brave enough, enter the dark cave that houses the creepy-crawlies such as beetles, tarantulas, scorpions, and millipedes. Not to worry though, these critters are placed inside containers, so you won't experience a panic attack and suddenly slapping one of these amazing creatures.
Everything else is preserved behind glass in the indoor Insect Kingdom Museum, exhibiting rare insects and some of the globe's heaviest and largest beetles as well as other creatures from Singapore and around the region.
HeadRock VR
Fire bullets at your enemies, save yourself from demon spirits, survive the apocalypse by killing those damned zombies or balance yourself on the edge of a skyscraper.
Sound pretty exciting, right?
Well, you can do all this and much more at Singapore's very first VR Theme Park. The HeadRock VR in Sentosa offers cool rides and high-tech games for all the thrill-seekers, offering a larger-than-life experience that will bring out the adventurer in you.
This newly opened VR theme park offers 11 exciting rides, taking you to a different dimension of fun. It is split into 3 different colored zones, indicating different intensities.
Green is where you warm-up, consisting of the VR Room, Zombie Busters and Robin Hood. It is great for the little ones and allows you to play various games such as baseball, fencing, shooting and more that are suitable for all ages.
Orange zone offers attractions that allow you to fully appreciate VR tech. It includes four attractions: Skyscraper, Horror Room, Jungle Rafting and Extreme Train. They feature exciting story lines that should make your VR experience even more realistic.
Now, the Blue Zone is where you need to bring your "game face" on and ensures your heart gets racing. You can expect lots of superspeed objects and adrenaline-pumping experience in this zone. It also features 4 attractions: Beat Saber, Flying Dive, Jump Jump and Storm Blizzard.
Jurong Lake Gardens
Surround yourself with fauna and flora to the west as you stroll around the largest nature wonderlands of Singapore's latest national garden, the Jurong Lake Garden that spans a whopping 90 hectares.
Here you will find the Aquatic Garden featuring the largest collection of water lilies in all of Singapore. Kids and families should explore the forest of Neram trees at the Nature Rambling Trail that provides educational opportunities to learn about the native riverine and aquatic flora environments.
Plants and art are displayed side-by-side at the Water Gallery Trail. Visitors can discover the outdoor spaces as well as secret rooms where they'll find both art and flora. The Floral Show Garden is an event space with all colorful floral displays that are refreshed seasonally. Meanwhile, kids will love the 13 different adventure play stations at Forest Ramble.
There are other attractions in this broad piece of land specially landscaped for families and the community to come together to learn, play and bond. It just takes your adventure side, stamina and some extra battery for taking all those wonderful shots.
Bollywood Veggies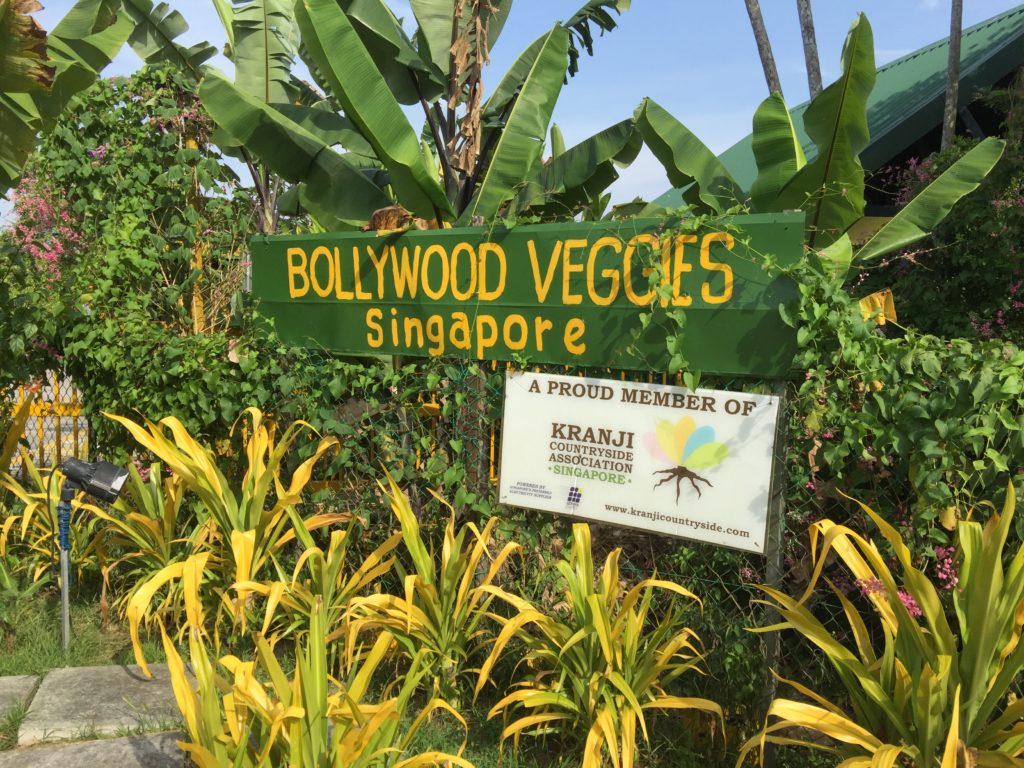 A city person's best bet for a serene farm break, the Bollywood Veggies is a rustic farm-to-table café— the Poison Ivy. Occupying a sizeable piece of land in the Kranji Countryside, this organic farm bears bananas, pineapples, eggplants, starfruit and more.
This haven was started by Mr. Lim Ho Seng and Mrs. Ivy Singh-Lim. They both worked in the corporate world for years and instead of retiring, they decided to invest in farming. And with the help of Dr. Vivian Balakrishnan, the then Minister of State for National Development, they come to realize their vision of life.
This 10-acre farm opened its gates to the public in the year 2000 and has evolved into a successful attraction, with over 100 varieties of plants.
Tour the wide farm and learn about local culinary history at their Food Museum. After a tiring walk, tuck into a delicious meal that features fresh produce. Strike a conversation with the owner if you see her or learn how to whip up yummy local dishes at the hands-on cooking school.
Snow City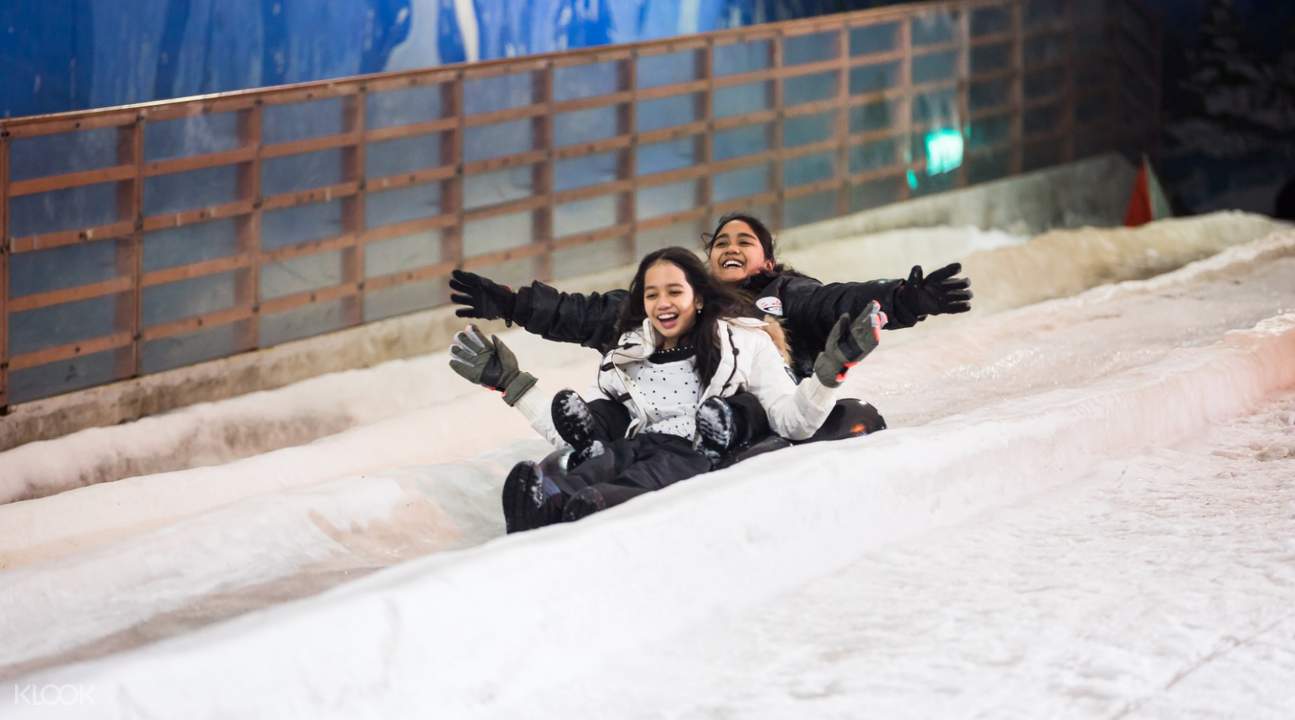 Escape the humid and hot climate of the tropical South Asian Country and experience the snow and cooold world of Snow City. This cool paradise is an ultimate crowd-pleaser where you get to dress up in a whole winter gear get up and actually experience the chilling thrill of Artic in Singapore.
The attraction is divided into 5 zones. The first one is the Arctic Snow Playground where you'll enter the fascinating world of Eskimos. The interactive sessions take the kids through some interesting facts about their ecosystem. Here you also get to take photos with life-sized sculptures.
In the Snow Field, enjoy a joy ride as you settle down at the Giant Owl. You'll be able to know the science behind the Northern lights via a storytelling session and don't forget to experience the thrilling snow blizzard experience.
For the adventure seekers, the Arctic Snow Slide can give them a really cool ride down the 60m long snowy slope. Meanwhile, you can try being an Inuit and get toasty in an igloo home or try ice fishing. Ride and sleigh and enjoy being pulled by a reliable husky sled dog team or experience a magical snowfall experience at the Upper Mezzanine level.
Lastly, to make sure you never forget the experience or gift it with friends and family, pick up some Arctic souvenirs at the Shaman's gift shop.
Gardenasia
The Kranji Countryside offers another surprising sanctuary— the Gardenasia. It comprises of a bistro, farm and remodeled black-and-white British colonial villas spreading over the 2 hectares of lush greenery.
Staying at one of the oriental, contemporary or English style villas allows you to step back in time with the classic carved wooden furniture and their exposed timber roof beams. At first glance, you'll instantly feel rusticity but with interiors fitted with modern audio-visual systems and luxurious marble-tiled bathrooms.
Stroll around the fruit trees and herb gardens before digging into dishes created with fresh produce. Make sure to try their pan-roasted lamb to accompany salad and wash it down with some cactus drink or farm-fresh roselle.
Vintage Camera Museum
When talking about camera, we usually think of DSLRs or smartphones. However, at the Vintage Camera Museum in Singapore, you will get to experience old-school photography. Singapore's first and only museum dedicated only to antique photography, the Vintage Camera Museum houses more than 1,000 vintage cameras.
The building itself also looks like a huge Rollei camera, making it hard to miss and also happens to be the largest camera-shaped building in the globe.
You'll find a range of old-school spy cameras, 3D cameras, pigeon cameras, and even the massive 6-meter long Mammoth Camera. Other than the equipment, the museum also features interesting nuggets on photography, rare old photographs and an authentic replica of the very first photo taken on camera.
The best part here is that the strict "no touching" rule in most museums does not apply here. You get to actually pick a number of vintage cameras and even try them out yourself.
Lee Kong Chian Natural History Museum
A sperm whale exoskeleton, a dinosaur fossil, a specimen of the Asian Brown Flycatcher collected by the renowned Alfred Wallace himself and the only specimen of the largest turtle species ever recorded— these are just some of the highlight of Singapore's Natural History Museum.
The gallery is perfect for those interested in wildlife without the legwork. The museum features 16 zones that display specimens that run the gamut from fungi, plants, dinosaurs, mammals and more.
Moving outside, the museum is surrounded by 4 gardens like the Phylogenetic garden, featuring the evolution of habitats and plants. Other gardens are themed after dryland forests, swamps and mangroves— featuring plants that are unique to these habitats.
The best part?
Entry to the garden is totally free!
Ready For An Adventure?
The next time you're scratching your head and doing a frantic Google search of things to do in Singapore, check out these 10 lesser-known places hiding around the sunny island. You'll only need a GPS, a nice ride (most of these spots are inaccessible via public transport) and the adventure spirit to appreciate these best-kept spots when on the Little Red Dot.